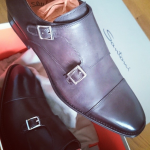 Over the past 5 years I believe I have used (used out!) 20+ dress shoes, except a few. Common to those who break are they are cheap, they comes with plastic/rubber sole, seems are breaking because of bad quality and the leather is loosing color, flicking or breaking. Especially in Norwegian winter conditions leather shoes suffer unless you use galoshes.
Throw them all away, save your feet, back, and money investing in proper shoes. I just started a couple a years ago, have two pairs of Italian shoes and is about to test out a Spanish brand, Magnanni.
If you like fine leather shoes or loafers, Italian, French, British etc. you should check out the shoe pyramid from Ask Andy About Clothes. Personally I fancy Santoni as these classic monkstraps.
For Norwegians, check out this test and the great guides from some of Oslos best shoemakers (Dagestad, Gundersen).