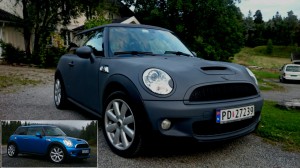 A few weeks ago I saw a video from dipyourcar.com on YouTube. Awesome! I can Make my car personal withouth the hassle of using expensive and difficult to add vinyl wrapping. In addition it is cheaper.
So, first I bought to 4g buckets of Plasti Dip rubber coating. One with black matte (for the roof) and one with gun metal grey (for the rest).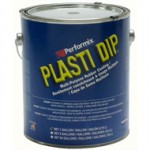 To be alle to spray it on the car you ned a spray. As I wanted to test this without blowing my budget I found a cheap one at Biltema. Next I neede thinner for the Plasti Dip to be sprayable. I bought one from Plasti Dip. This was mixed 1/3 to the Plasti Dip before spraying.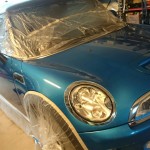 Next, mask you car. It is not neccessary to mask the whole car as Plasti Dip is easy to remove afterwards, e.g., headlights and such. Make sure you mask all sensitive parts, such as the grill, ans other places where you don't want plastic left overs.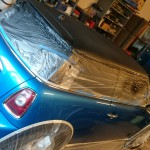 One important thing and lesson learned while dipping was that the temperature of the dip and the environment as such should not be too cold. Around 20*C gave best result.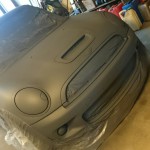 As you can see, I did not mask the headlights or foglights.
After 5-6 layers of Plasti Dip (with approximately 5-10 minutes break) it was time to remove the masking.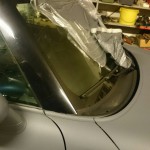 I am quite happy about the results!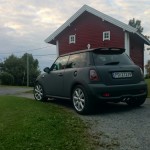 Please let me know if you would like to know more or have questions about the process.
For reference, the following picture was taken before dipping.